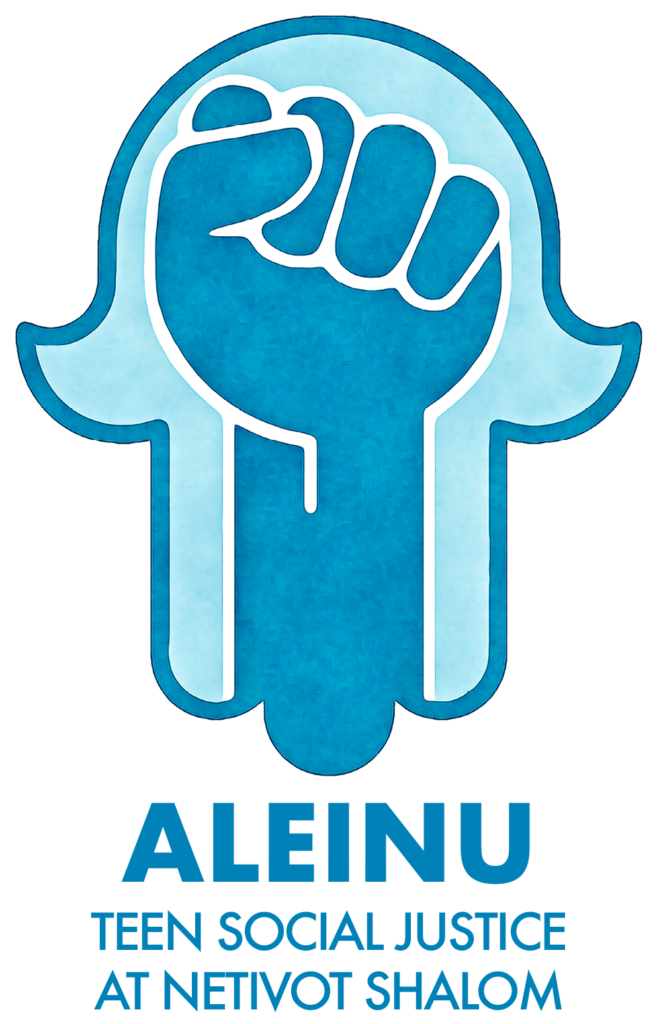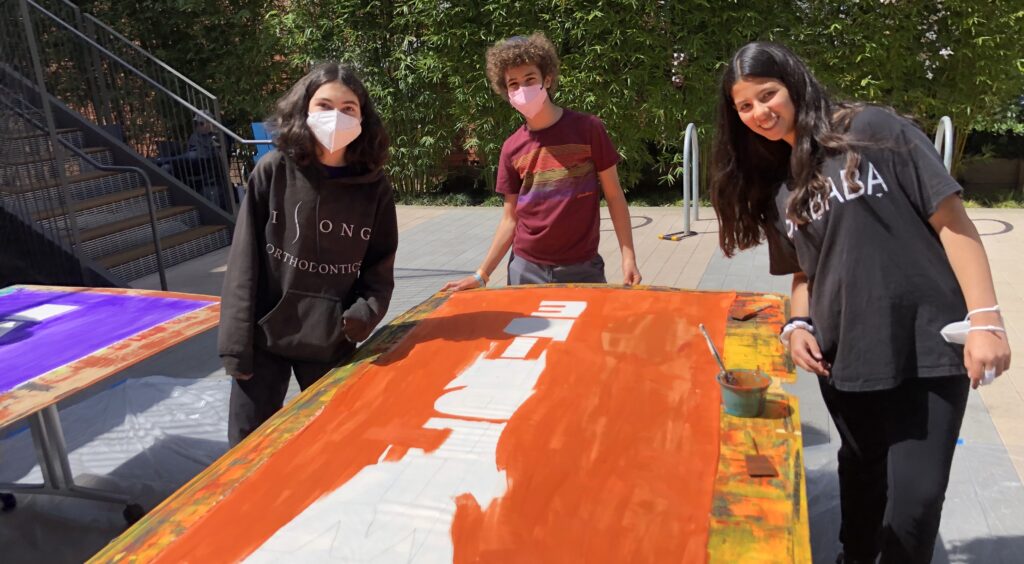 Overview
Aleinu: Teen Social Justice at Netivot Shalom is a program for 8th-12th graders providing teens the opportunity to form meaningful social connections as they build their Jewish social justice toolkits. Tzedek, justice, is a core Jewish value, which calls on us to examine inequity and histories of oppression through a systems lens, and take action. Aleinu participants will learn about injustice and the many tools Judaism provides us to both fight it, and to spiritually support our changemaking. They will develop a shared vocabulary of key social justice terms, learn about modes of social change, think critically about their own various identities (Jewish and more), and collectively choose a course of action based on an injustice that is meaningful to them.
Funding for Aleinu provided by a grant from the Jewish Community Federation and Endowment Fund.
Aleinu meets on alternating Tuesdays throughout the school year, from 7-9pm at Netivot Shalom. Program dates for 2022-2023 (subject to change):
Fall: September 6 & 20, October 25, November 8 & 29
Winter: December 13, January 3, 17, & 31, February 14 & 28
Spring: March 14 & 28, April 18 & 25, May 9 & 23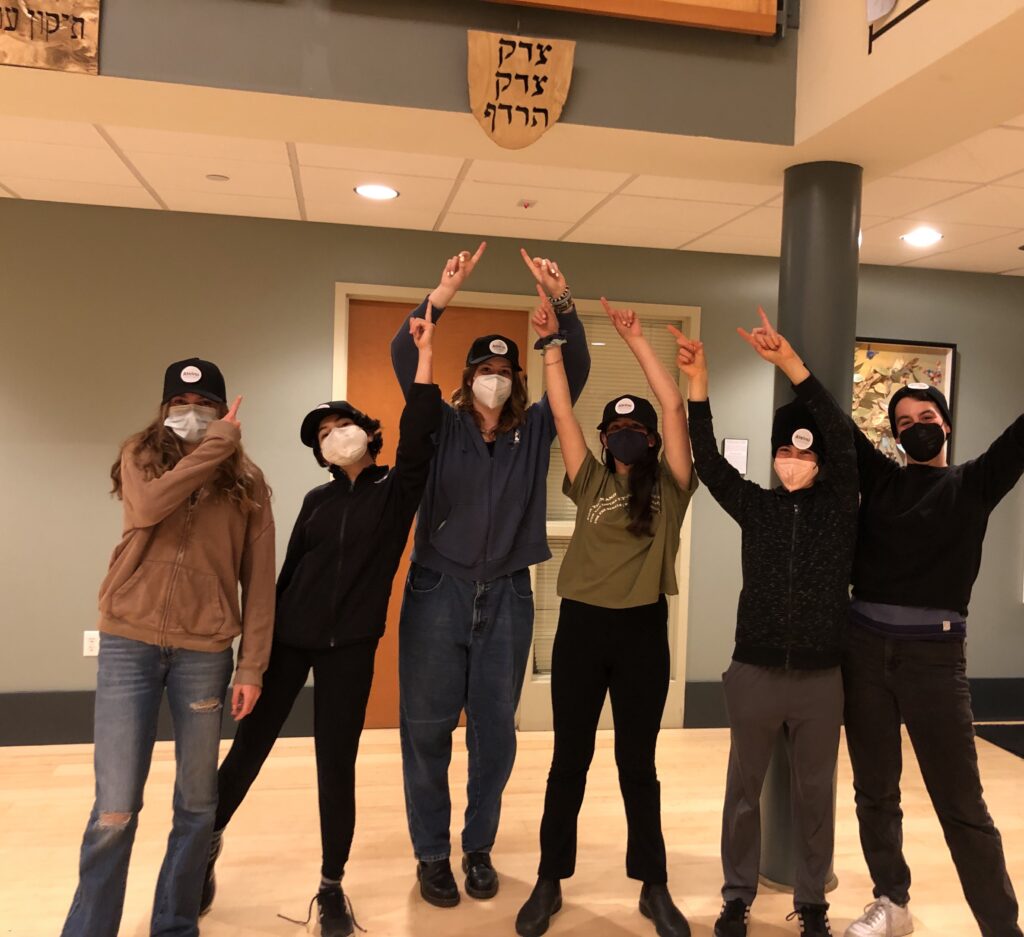 Participation Expectations

Attendance: Regular attendance is expected. We ask that you inform us of any dates you will need to miss upon registration. 

Communication: Yael will often need to communicate with teen participants directly. This will primarily be done through a WhatsApp group, so we ask that participants download the WhatsApp app and check it regularly. Email communication will also be required at times, so we ask that teens check their email at least once a week. 

Food: Unlike last year, food sign-up will be done all at once, during registration. Teens may opt in or out of pizza dinner, which includes two slices of kosher pizza. We can accommodate changes mid-year if necessary.

Program Cost
The cost of the Aleinu program is $180

Food Sign-up
Cost for pizza for the whole year: $90

REGISTER HERE
Frequently Asked Questions
When does Aleinu meet?

Aleinu meets on alternating Tuesdays throughout the school year, from 7-9pm at Netivot Shalom. Program dates for 2022-2023 (subject to change):

Fall: September 6 & 20, October 25, November 8 & 29
Winter: December 13, January 3, 17, & 31, February 14 & 28
Spring: March 14 & 28, April 18 & 25, May 9 & 23
How is this program unique?

While there are many fantastic Jewish social justice programs out there, this one is housed within Netivot Shalom, and is therefore tied to our specific community and congregational life. Our aim is to provide one more doorway into meaningful social justice learning within the larger ecosystems of Netivot Shalom and Bay Area Jewish teen programming. We collaborate with other aligned programs as much as possible.
Who can attend? Can I bring my friend if they are not a Netivot Shalom member? Do you have to be Jewish?

Any teen 13 and up can attend this program. Contact Yael if you'd like to bring a friend who is not yet a Netivot member.
Do I need to be vaccinated?

If you are eligible to be vaccinated and boosted and can do so safely, you must be vaccinated and boosted in order to attend our programs. You can find more information about Netivot Shalom's Covid-19 safety and protocols here.
What is the meaning behind the name Aleinu?

Our first-ever cohort of teens chose the name Aleinu, which means "it is upon us." They felt that this word captures a sense of responsibility, urgency, and working together in solidarity, which reflect the values they hold for justice work.
How was this program developed?

This program was developed in 2021, in response to a sense that teens and teen voices deserve to be more centered and empowered in Netivot Shalom, particularly when it comes to matters of justice. After receiving a grant from The Jewish Teen Initiative, Netivot Shalom hired Yael Platt to design and run this program. Yael worked closely with the teens of Netivot to co-design a program that would reflect their interests and values, and continues to incorporate feedback into the ongoing curriculum design.
Can I get school community service credit for participation?

Our focus is primarily on equipping ourselves with social justice skills, knowledge, and action. Though volunteering may potentially play a role in the group action project(s) we develop each year, most of our time will not be spent doing direct service work. If you are interested in fulfilling your community service requirements through participation in this program, Yael would be happy to work with you to explore whether our program meets your school's requirements.
What does this program cost?

The cost is $180 for the year.

There is an additional fee for the dinner option.

We welcome all teens into our youth programs, which are highly subsidized by Netivot Shalom's membership dues. Therefore, there is an additional $180 fee for non-members in order to participate in these programs. Finances should never be a stumbling block to participation; assistance is available.
Will there be accommodations for accessibility needs, whether related to COVID, physical needs, neurodiversity, or anything else?

Inclusivity and accessibility are a priority of our programs at Netivot Shalom. If you have any questions, ideas, or requests around accessibility or accommodations of any kind, please reach out to Yael.
How do I sign up?
ALEINU PROGRAM COORDINATOR
Yael Platt (she/her) is an artist, Jewish educator, and theater person who grew up at Netivot Shalom and went through the Amitim program. She is passionate about exploring the beauties and challenges of Judaism, and using our ancient teachings to more deeply understand ourselves, systems of oppression, and what powers we hold as changemakers and students of justice. Yael also works with b'nai mitzvah students and leads consent workshops. She is always looking for new silly icebreaker questions. You can reach her at yael@netivotshalom.org.