Congregation Netivot Shalom is a community that prides itself on its rich opportunities for learning. There are programs for people of all ages, from pre-school to adults. Explore the options below for information about our youth programs and adult classes. If you have questions about which programs are best suited for your family, please contact Rebecca Goodman at rebecca@netivotshalom.org.
Our Audio Guide for Davening has sound files for Shabbat morning, Kiddush, grace after meals, and Havdalah.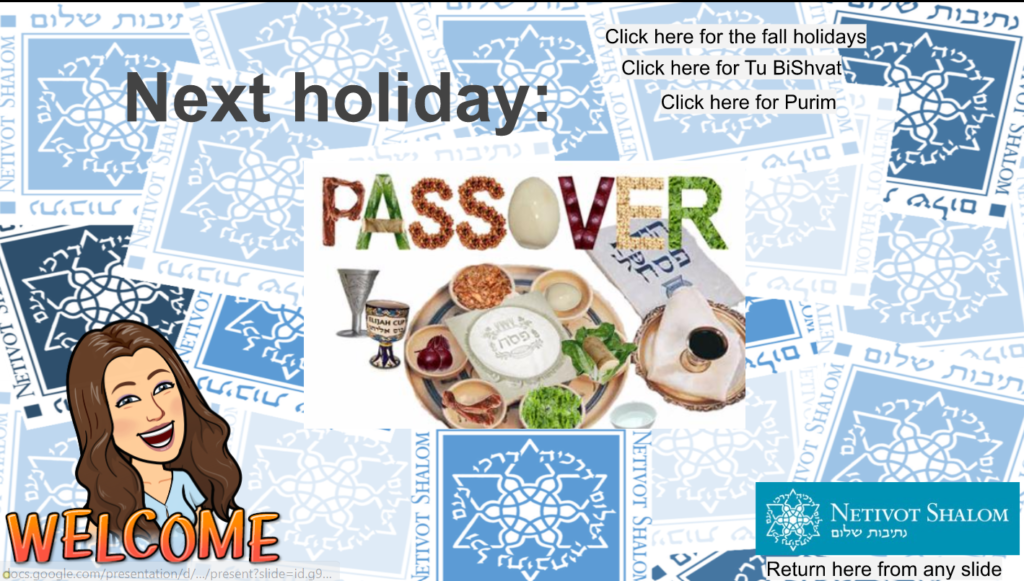 Netivot Shalom's Preschool offers high quality Jewish Early Childhood Education that provides a safe, nurturing, and supportive environment for children ages 2 through pre-K. The program is a developmentally appropriate, play-based immersion in a Hebrew-rich environment. The curriculum flows naturally though the Jewish year centering on the emergent interests and needs of the children. Exploring middot/Jewish values and guiding the children in discovering their Jewish identity are integral parts of our daily activities as we strive to develop the whole child, socially, emotionally, spiritually, physically and cognitively.
Preschool meets Monday through Friday from 9 am – 1 pm with some extended care available. For more information, check out our page or contact Ruth Levitch, the CNS Preschool Director, at preschool@netivotshalom.org or call 510-549-9447, ext. 110.
Netivot Shalom welcomes people of all ages on Shabbat with great excitement and delight! When we are no longer sheltering-in-place, we will resume offering a range of child care and programming for children ages two through high school. For more information, see Children's Shabbat Programs.
Ketzev: Weekday YOUTH Learning (K-5th grades)
Ketzev: Netivot Shalom's Youth Chavurah is committed to creating a sense of belonging, Jewish rhythm, and a foundation of Hebrew. Ketzev, meaning Rhythm, creates a warm environment for learning and growing for the Kindergarten through 5th graders who attend. Ketzev is taught by an amazing staff.
Jewish studies focuses on the "לַבְּרִיאוּת La'bri-ut: To Our Health and Wellness" curriculum this year. It has been developed in response to the COVID-19 pandemic by a nation-wide thinktank of Jewish educators. Please click here for a brief introductory video to the first unit, Sukkat Shalom, A Shelter of Peace.
The curriculum focuses on five Jewish values forming the basis of five core modules. There are take-home kits of materials to enhance the experiential learning and bridge at-home activities with online group mifgashim (meetings).
These modules complement a set of principles for caregivers of mass trauma victims, such as a pandemic. In this article that describes this concept, the caregivers are generally clinical professionals, but for the purpose of this curriculum, the definition has been expanded to parents, guardians, teachers, etc, who are helping children gain a sense of: safety, calm, self- and community-efficacy, social connectedness and hope.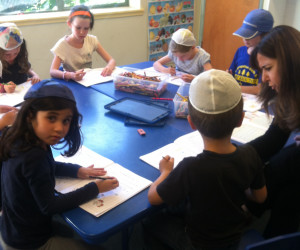 The synagogue skills component of Ketzev will take place in small "hevruta-style" groups of approximately 5 students. These small groups will enable focused learning on Hebrew and prayer for shorter durations of time via zoom.
During this time of sheltering-in-place and uncertainty regarding meeting in person and in large groups, we are planning to start the school year virtually and be poised to quickly pivot to meet in person as soon as it is safe to do so, in alignment with city and state COVID-19 guidelines.
Ketzev meets on Tuesdays and Thursdays. Click here to register for Ketzev. For more information, contact Rebecca Goodman, Youth and Family Education Director, at yfed@netivotshalom.org.
Amitim, meaning friends and fellowship, is Netivot Shalom's B'nai Mitzvah program. Amitim provides a community where students and families share a special learning and growing experience together. This program helps to provide a foundation of Hebrew and synagogue skills, as well as engaging students in social action and Tikkun Olam.
The Amitim curriculum is divided into two components: Jewish Studies and Synagogue Skills. The Jewish Studies component is then further divided into trimesters for each of the two years of the Amitim Program. The topics for each year include:
Jewish Studies Year 1
Where Do I Stand? (Judaism's Great Debates)

Mentsch Training Academy (Social Justice & what it means to be part of a Jewish community)

Torah & Haftarah, culminating with 2-3 group sessions on how to write a drash *facilitated by Rabbi Chai* at the end of the year
Jewish Studies Year 2
Kevah

&

Kavanah

(What/Who is God and what is my relationship with God)

Na'aseh V'nishmah

(Social Justice and Tikkun Olam)

Where do I Stand? (Philosophy)
Please click for more information about the Amitim program.
Amitim meets on Tuesdays. Click here to register for Amitim. For more information, contact Rebecca Goodman, Youth and Family Education Director, at yfed@netivotshalom.org.
Amitim students: click here to hear recordings of prayers and trope.
We offer a variety of teen programs for post-B'nai Mitzvah through 12th grade.
Our newest program focuses on Social Justice and launches in January 2021.
Teens in 8th grade through high school are encouraged to participate in any/all of our teen programs including youth group, madrichim, monthly youth gatherings, as well as regional USY events. Click here for more information.
Berkeley-Oakland Midrasha is an exciting, innovative, inter-congregational supplementary school cosponsored by Netivot Shalom and nine other synagogues. Midrasha engages Jewish teens through educational, social, and spiritual programming in order to strengthen their ties with their heritage and their community. It offers a broad range of interesting and challenging courses to students with a strong Jewish background and to those with little formal training or knowledge—classes range from Talmud and Hebrew to Jewish films and drama. Midrasha provides a warm social environment in the classroom and at weekend retreats.
Midrasha meets on Sundays from 3:30 – 6:00 pm at Netivot Shalom. For more information, check out the Midrasha website.
CHAI FIVE CAMPAIGN
Netivot is raising up generations of Jewish learners, one future at a time. For more information about our campaign for youth and family education, please see the campaign website
here
.
Rebecca Goodman, RJE
Youth and Family Education Director
Click here to schedule a meeting with me.
Visit our virtual classroom.