Congregation Netivot Shalom is a community that prides itself on its rich opportunities for learning. There are programs for people of all ages, from pre-school to adults. Explore the options below for information about our youth programs and adult classes. If you have questions about which programs are best suited for your family, please contact Elizheva Hurvich at yfed@netivotshalom.org or 510-549-9447.
Our Audio Guide for Davening has sound files for Shabbat morning, Kiddush, grace after meals, and Havdalah.
Netivot Shalom welcomes people of all ages on Shabbat with great excitement and delight! We offer a range of child care and programming for children ages two through high school. For more information, see Children's Shabbat Programs.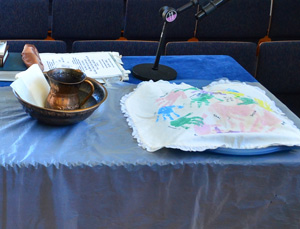 Netivot Shalom Preschool's offers high quality Jewish Early Childhood Education that provides a safe, nurturing, and supportive environment for children ages 2 through pre-K. The program is a developmentally appropriate, play-based immersion in a Hebrew-rich environment. The curriculum flows naturally though the Jewish year centering on the emergent interests and needs of the children. Middot/Jewish values and guiding the children in discovering their Jewish identity are an integral part of our daily activities as we strive to develop the whole child, socially, emotionally, spiritually, physically and cognitively.
Preschool meets Monday through Friday from 9 am – 1 pm with some extended care available. For more information, check out our blog or contact Ruth Levitch, the CNS Preschool Director, at preschool@netivotshalom.org or call 510-549-9447, ext. 110.

Ketzev: Netivot Shalom's Youth Chavurah is committed to creating a sense of belonging, Jewish rhythm, and a foundation of Hebrew. Ketzev, meaning Rhythm, creates a warm environment for learning and growing for the Kindergarten through 5th graders who attend. Ketzev is taught by an amazing staff, including teen helpers.
Ketzev meets on Tuesdays and Thursdays from 3:45 – 5:45 pm. For more information, check out our blog or email Serena Heaslip at serenaheaslip@yahoo.com.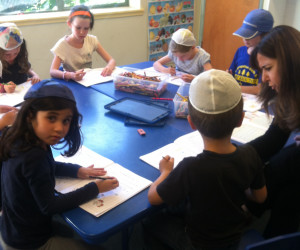 Amitim, meaning friends and fellowship, is Netivot Shalom's B'nai Mitzvah program. Amitim provides a community where students and families share a special learning and growing experience together. This program helps to provide a foundation of Hebrew and synagogue skills, as well as engaging students in social action and Tikkun Olam.
Amitim meets on Tuesdays from 4:30 – 6:30 pm, as well as occasional Sundays. For more information, check out the Amitim blog or email Serena Heaslip at serenaheaslip@yahoo.com.
Amitim students: click here to hear recordings of prayers and trope.

Midrasha in Berkeley is an exciting, innovative, inter-congregational supplementary school cosponsored by Netivot Shalom and nine other synagogues. Midrasha engages Jewish teens through educational, social, and spiritual programming in order to strengthen their ties with their heritage and their community. It offers a broad range of interesting and challenging courses to students with a strong Jewish background and to those with little former training or knowledge—classes range from Talmud and Hebrew to Jewish films and drama. Midrasha provides a warm social environment in the classroom and at weekend retreats.
Midrasha meets on Sundays from 3:30 – 6:00 pm at Netivot Shalom. For more information, check out the Midrasha website or contact Mark Deutsch, the Executive Director, at mark@midrasha.org or call (510) 843-4667.
Youth Group
Teens in 8th grade through high school are encouraged to participate in monthly youth gatherings as well as regional USY events. Click here for more information.
CHAI FIVE CAMPAIGN
Netivot is raising up generations of Jewish learners, one future at a time. For more information about our campaign for youth and family education, please see the campaign website
here
.