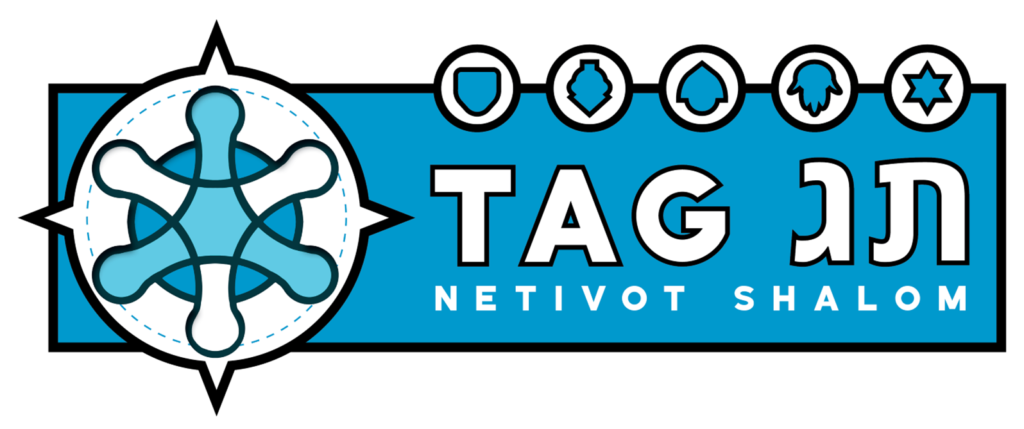 Congregation Netivot Shalom is launching not just one new path but many paths (netivot) toward youth and family education! These paths will lead you through a variety of topics with varying ways of learning. Just as on any path, you can go quickly on your journey, or you may take your time. When you reach the end of each path, you will earn a badge. This is a "choose your own adventure" form of Jewish learning.

Tag, you're it!

Frequently Asked Questions:
What is this program called and how did it get its name?

The name of the program is TAG, and means badge in Hebrew. Since students are working toward earning badges for their Jewish learning, it seemed natural to emphasize this reward for learning. Bonus: Short, simple, and easy to say; TAG rhymes with blog.
Shimon the Righteous teaches that the world stands on three things: Torah, Avodah, and Gemilut hasadim (Pirkei Avot 1:2). How cool that those three things also create the acronym TAG?!
A tag is also the decorative, scribal feature found on specific letters every time they are written in the Torah, Tefillin, Mezuzot, and Megillot. Another name for this scribal feature is keter or crown. Participants in TAG become crowns of Torah learning.
What is TAG?

TAG is a program that offers a variety of age-appropriate educational opportunities for children and families, the bulk of which will take place on Shabbat mornings. There are three main pillars, or topics, that make up each area of study: Torah, Avodah, and Gemilut hasadim.

In addition to Shabbat programming during the school year, youth and their families may also work on their tagim (plural, "badges") independently and turn in assignments for credit toward completion of their badge. We will use Google classroom to track badges, progress, and awards.

Weekday programming at Netivot Shalom will also be available, with enough interest from participating families. More information about weekday options is forthcoming.

Upon completion of a badge, students will receive a physical badge representing their hard work. These tagim, badges, may be affixed to their Siddur Lev Shalem cover for all to see. (See below for more information and a sample badge.)
Who can participate in TAG?

Anyone who comes to Netivot Shalom regularly! TAG is designed for children in kindergarten through 5th grade and flows straight into our current Amitim program for students in 6th and 7th grades.
Where and when does TAG take place?

Primary participation in TAG is on Shabbat mornings with additional opportunities to participate and earn your badges during the week and/or in your own homes and other Jewish educational programs in which you already participate. Inherent in the TAG program are pathways and options for Jewish learning. Our goal is to make Jewish education fit your life, your busy schedule, and your interests. We will work with your family to explore how TAG is the right program for you!

TAG takes place on Friday afternoons (optional) and Shabbat mornings.

Draft Shabbat Schedule

9:00-10:00 SHABBAT SHALOM

Kids are welcome to be in services, supervised on the playground, or hanging out with friends in designated and supervised spaces.

10:00-10:15 Shabbat Train

Staff gather kids in a "train" around the shul to bring everyone together. Introduce options for the day and divide into TAG groups.

10:45-11:45 TAG Activity

Kids participate in one of three activities. During this time there is no hanging out in hallways or the social hall. Kids who are not interested in one of the three options may attend the service with their parents/guardians.

11:45-Kiddush Adon Olam

Kids return to services for Adon Olam, to do a presentation, make announcements, etc. A few times a year tagim (badges) will be awarded during this time in the service.


For a complete TAG experience, we encourage families to also attend Friday afternoons where students will deepen their learning while engaging in arts, crafts, cooking, and more (activities that we don't do on shabbat)!

Friday afternoons provide an option of 2:30-5:30pm or 3:30-5:30pm to fit your child's school dismissal time.

We also offer full year and half year registration options to fit your other extra curricular activities. Please see the answers to "How much does it cost" below for tuition details.

Alternative option: Those who do not attend the TAG program may attend the service, supervised by parent/guardian. Children must be supervised by an adult at all times.
What types of badges are there? What are some examples of activities?

Examples of badges that you can earn include a badge for Tzedek (Justice), Kehillah (Community), Ivrit (Hebrew), Torah, Mitzvot, Israel, Derech Eretz, Food, Arts & Culture, People. They sky is the limit and badges will continuously be developed in response to current events, history, and our tradition. Sample Torah badge:

Examples of activities for a few of the badges:

In exploration of B'tzelem Elohim, being created in God's image, students will trace themselves on large pieces of butcher paper/poster board and then label all the gifts and talents that God gave them, highlighting the ones that make them special and unique.
Options for attaining the Kehillah, Community, badge: invite two Netivot Shalom families over for Shabbat dinner or lunch (when social distancing rules allow); participate in the Netivot Shalom Purim shpiel; attend TAG programs and Shabbat morning services at least ten times throughout the year; make for yourself a teacher and acquire for yourself a friend (find a TAG buddy and earn a badge together).
The Jewish value of Hachnasat Orchim, Welcoming Guests, encourages us to be hospitable. One activity for this badge would be to learn about Abraham and Sarah in the Torah portion, parashat Vayeira. "He ran from the entrance of the tent to greet them." (Genesis 18:2). Discuss with your family, a friend, a teacher, or reflect on your own as you answer the following questions, based on the text:

With whom was Abraham speaking when the strangers approached?
What does Abraham offer?
How would you describe Abraham's character in this scene?
What are three things you can do to model kindness and generosity of spirit through hospitality?

During a playdate, what are some special ways you should treat your friends?
Why is it important to treat guests well?

If you were to invite friends over for dinner, what three things would you take into consideration as you plan the meal and activities?
What about Hebrew? How do I learn Hebrew?

At Netivot Shalom, rather than focusing on Hebrew, we focus on synagogue skills. One component of attaining synagogue skills is developing an ability to decode (read) Hebrew. Our Hebrew badge has four levels of PaRDeS, just as our other badges (see below for more information). Similarly, just like the entire TAG program, there are many paths one can take to earn the Hebrew badge.

Some paths to complete components of the Ivrit (Hebrew) badge:

Participate in our weekday Hebrew classes at Netivot Shalom.
Participate in Hebrew Chug on Shabbat mornings and learn some modern Hebrew through "Word on the Street."
Take Hebrew at one of our fabulous local day schools.
Speak Hebrew at home with a native or fluent Hebrew speaker.
Meet individually with a family member or community member (tutor).
Attend Edah or another Hebrew educational program.

We will develop a checklist of expectations for each level (see below) of Hebrew badges that the student can work toward. Most of our badges will have some form of "evidence of learning" that the student can share. In Hebrew, this may take the form of an assessment to determine that those who earn each level of the badge, regardless of the path they took, attain the same knowledge.
What if I really like a topic, can I earn a badge more than once?

Yes! You can earn a badge more than once. Badges can be attained up to four times, with additional depth each time. Each topic has a corresponding design that will be embroidered onto the physical badge. Across each badge will be a "ribbon" noting which level of understanding has been achieved. The levels are based on פַּרְדֵ״ס PaRDeS. In the Middle Ages, the word pardes was used as a mnemonic for the four types of biblical exegesis, an acronym for p'shat (the literal meaning), remez (hint, i.e., veiled allusions), drash (homiletical interpretation), and sod (mystery, i.e., the esoteric interpretation).
Do I have to earn my badges in a particular order?

No, you need not earn badge topics in a specific order. Similarly, you need not earn each preceding level of a badge before working on the next. You may choose to earn the Tzedek p'shat badge and then spend time earning a variety of other badges before returning to Tzedek and earning the sod level (skipping remez and drash). PaRDeS levels are loosely based on age groupings, our youngest learners in kindergarten and first grade should focus on p'shat while our fourth and fifth graders should focus on sod.
How much does it cost?

To join TAG it costs $180, per child for the year. This covers the cost of Shabbat morning programming, a siddur cover, and up to ten badges that you earn each year.

Friday Afternoon Tuition:

FULL YEAR 2:30-5:30pm (3 hours); 36 sessions = $1800
FULL YEAR 3:30-5:30pm (2 hours); 36 sessions = $1200

HALF YEAR 2:30-5:30pm (3 hours); 18 sessions = $1080
HALF YEAR 3:30-5:30pm (2 hours); 18 sessions = $720

If you are not a member of Congregation Netivot Shalom, please contact Rebecca Goodman, Youth and Family Education Director to make arrangements.
Once I've earned a TAG (badge), how and when will I receive my TAG?

Tagim (badges) will be distributed throughout the year on Shabbat morning. Everyone at Netivot Shalom will join us in celebrating the learning of our youth and families in the TAG ceremony. All TAG participants will receive a Siddur Lev Shalom fabric cover to display their tagim. Upon becoming Bar/Bat Mitzvah, the siddur – covered in badges – will be a visual representation of all the Jewish learning each child has completed.
What happens when I finish 5th grade?

5th grade is our bridge into the Amitim program at Netivot Shalom. Amitim students have their own set of badges, with a focus on becoming a Jewish adult and preparing for Bar/Bat Mitzvah. You can read more about the Amitim program on our website.
I'm in! How do I sign up? -or- I still have a few questions, with whom can I speak?
How was TAG developed?

In January 2021, Netivot Shalom convened a Re-Imagining Task Force to work with our Youth and Family Education Director to create a new educational endeavor for the congregation. We launched a participatory action research protocol to discern the most important goals for youth and family Jewish education at our congregation. Through a survey and series of Zoom synthesis sessions, where dedicated members of the congregation joined the conversation, we learned a lot about our members and what they are looking for in the education of the youth of the congregation.

Overall gleanings from Zoom sessions mirror findings in other studies of Jewish education and what has the most impact on future retention. Participants seek a sense of belonging. Our research shows members seek excellent curriculum with robust and thoughtful programming that is stable, yet flexible; with trained staff who are paid accordingly.

Our members are busy families, actively involved in communal life at Netivot Shalom and many are also involved in a myriad of other Jewish educational and social programs in the greater East Bay. Families also dedicate significant time to non-Jewish programs, sports, and afterschool activities. It became clear that we need a program model with a lot of access points that can address the needs of young children through teens, as well as those with different needs: socially, cognitively, environmentally, etc.

We know from experience, from our congregational research, and from international studies that experiential learning (a cross between camping and retreats) has the most lasting effects on the participant. When asked about "Ah-ha!" moments, our survey respondents cited, camp, bar/bat mitzvah, youth group, and leadership opportunities as the most impactful Jewish memories in their lives. TAG is designed to emphasize experiential learning opportunities for all participants.
We hope that you – all youth and families – will come for the fun and stay for the content.
Tag, you're it!